Printing techniques have been around for centuries. They continue to evolve and now there are many different types of methods available.
In this article, we take you through the different types of printing methods and the techniques that we use at Premier Impressions.
The Printing Techniques and Methods We Use
When customers come to us with their needs, they do not always consider that there are a few options available when it comes to printing methods.
Not all products can be printed using all techniques. Due to the material and shape of a product, only certain printing methods may be available. Each technique produces a slightly different outcome, so it is important to understand which is the best choice for your merchandise.
Pad Printing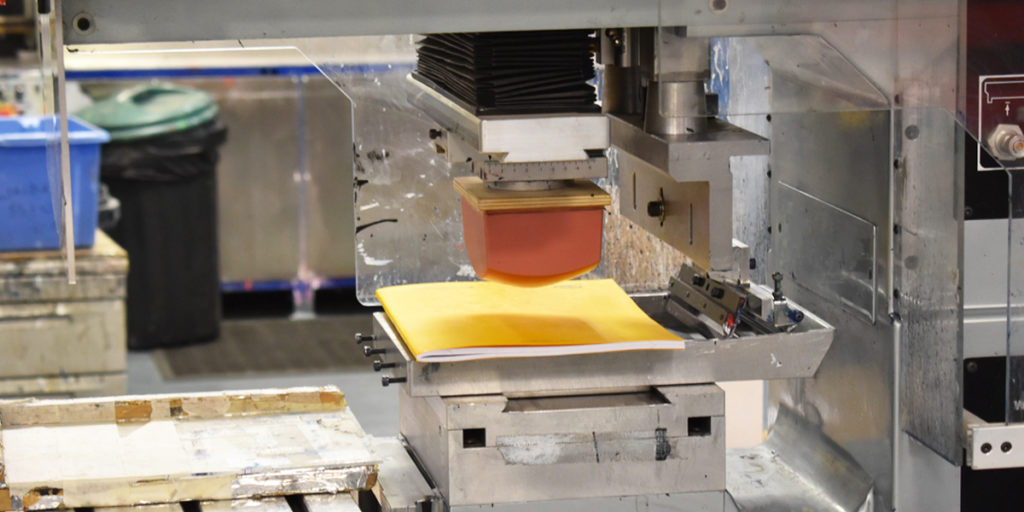 Pad printing, also called tampo printing is an indirect offset printing process where a silicon pad takes a 2-D image from an etched printing plate and transfers it to a 3-D object.
The printing plate is covered with ink, which is then cleared by a blade leaving a small amount of ink in the etched area. The pad then presses down onto the exposed image and the ink is transferred onto the pad and then onto the product.
What Products Can Be Branded with Pad Printing?
Thanks to pad printing, it is now possible to print all kinds of difficult shaped products such as curved, convex, concave, cylindrical, spherical, compound, angled and textured surfaces. Extremely fine detail and tight multicolour registration are readily achievable with pad printing.
Pad printing is used to brand products across many industries and some of the main applications include:
Pad printed promotional gifts like pens, rulers, yo yo's, stress balls.
Pad printed toys and souvenir gifts such as keyrings, toy cars, torches.
Pad printed medical devices like surgical instruments and thermometers.
Pad printed component parts such as switches, dials, and injection moulded products.
What are the advantages of Pad Printing?
One of the main advantages of using pad printing is that you can use it to print on three- dimensional surfaces and products of all shapes and sizes.
Whereas other conventional printing methods such as screen printing are limited to printing on flat or evenly rounded surfaces, pad printing can efficiently transfer images onto complex shapes as the silicone pads mould themselves to the shape of the parts. It does not matter if your items are curved or have an uneven surface, using this printing method will still achieve a quality print.
Screen Printing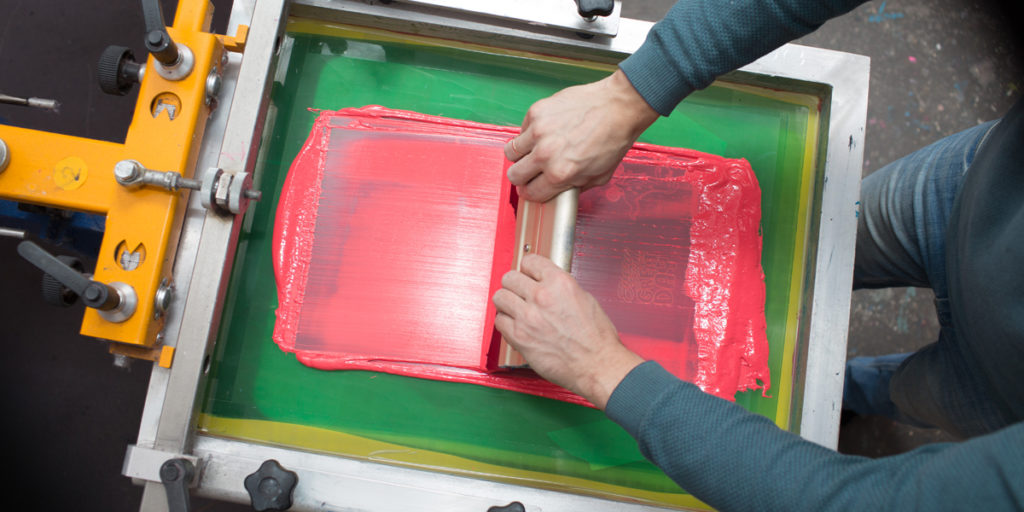 Screen printing is a technique where a woven mesh is used to transfer ink onto a substrate, except in areas made impermeable to the ink by a blocking stencil.
A blade or rubber squeegee is moved across the screen to fill the open mesh apertures with ink, and a reverse stroke then causes the screen to touch the substrate, as the screen rebounds away from the substrate, the ink remains on the surface.
This method is one of the oldest printing techniques, dating back centuries, and is now used to add branding and designs to materials of all kinds.
What Products Can Be Branded with Screen Printing?
Screen printing is widely used in the garment, signage and art sectors. We use screen printing to brand flat or cylindrical products across a range of industries ranging from controls panels for the electronics industry to drinkware and pens for the retail and promotional markets.
What are the advantages of Screen Printing?
Screen printing produces more vibrant and bolder colours that are challenging to replicate with other printing techniques. Techniques like pad printing produce a thinner layer of ink, and while it is great for details, the density of the colours are usually paler in comparison to screen printing.
It's also hard to find a printing method as versatile as screen printing. It can be performed on almost any surface; almost any kind of fabric, wood, glass, plastic and even metal — among many others.
Digital Printing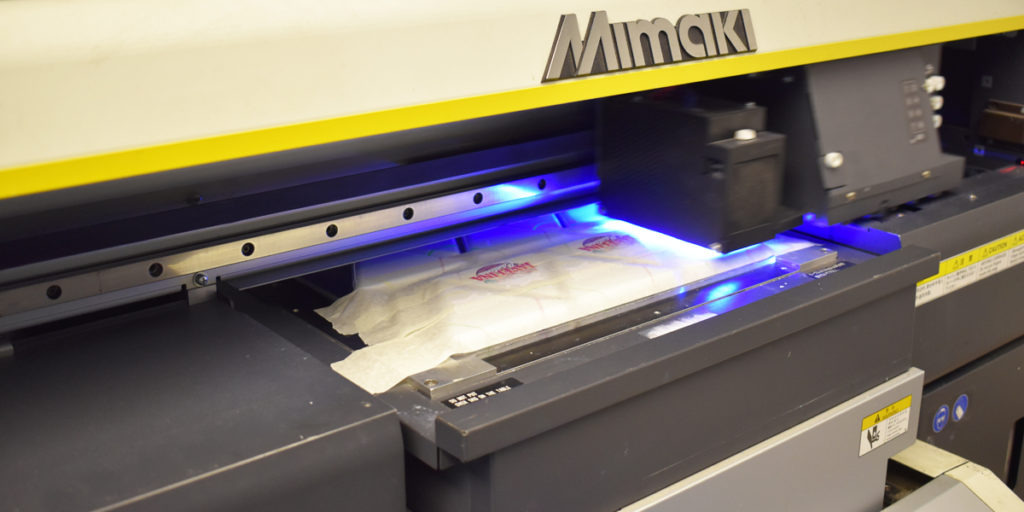 Digital printing is the process of printing digital-based images directly onto a variety of media and substrates. Tiny droplets of ink are transferred to the chosen media via a print head.
Most digital printing equipment will generally print in a four-colour process. This is made up of Cyan, Magenta, Yellow, Black. The image is split into these primary colours and then prints as a set of patterns or percentages of each colour which makes the final image.
With various combinations of these 4 colours it is possible to reproduce virtually any design or colour such as highly detailed multi coloured images and photographs. Unlike standard CMYK printing, our systems are also capable of printing White, which can either be used as an underlay to produce vivid bright colours on dark substrates or added to the final image.
What Products Can Be Branded with Digital Printing?
Digital technology has come a long way since its inception and its now possible to digitally print virtually any product. Garment printers use DTG (direct to garment) systems to print directly onto t-shits and sweatshirts, whilst signage companies will use large format digital machines to create signs and pos material.
At Premier Impressions, our digital systems are suited to printing flat items such as notebooks, gift boxes and phone cases as well as curved items like golf balls and pens.
What are the advantages of Digital Printing?
The main advantage of digital printing is the low set up costs involved. Unlike screen or pad printing there is no need to produce plates or screens for each specific colour that needs to be printed.
You are also able to recreate images and designs that would be almost impossible to create via conventional printing methods.
It's also an environmentally friendly option as the ink waste is minimal and there is no need for dryers or solvents of any kind.
Laser Engraving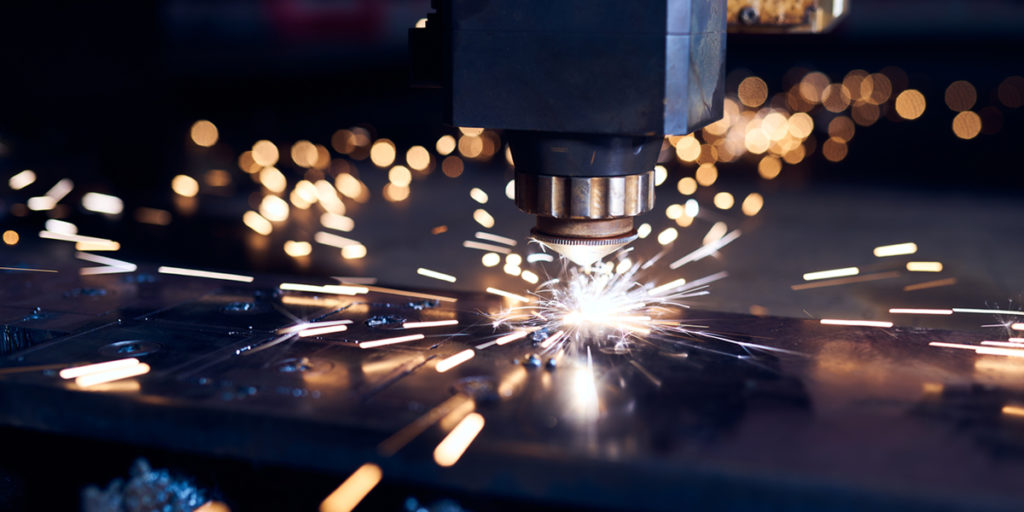 Light Amplification by Stimulated Emission of Radiation
Laser Engraving is the process of using a precisely controlled laser beam to either discolour the surface of a component or product or to actually engrave it by vaporising the material. The laser parameters and its position can be very accurately controlled to provide high contrast permanent marks in the form of barcodes, logos and graphics onto a variety of different materials which include:
Wood
Rubber
Card
Leather
Stainless Steel
Aluminium
Brass
Copper
Slate
Acrylic
What Products Can Be Branded with Laser Engraving?
There are a huge range of products that can be laser engraved. From laser engraved chopping boards to industrial component parts or personalised gifts this versatile process is used across a range of different industries.
What are the advantages of Laser Engraving?
The most obvious advantage is that once engraved the mark is permanent. This is especially critical when branding items that will be washed repeatedly or component parts that repeatedly come into contact with solvents or high temperatures.
Another advantage is that our laser engraving systems are capable of engraving variable data, which enables us to engrave QR codes, barcodes, serial numbers, individual names and other types of data onto a wide range of products and substrates.
Finding the right printing techniques for your requirements
Whatever your requirement we can help you choose the most appropriate printing techniques to suit your needs. From large runs to printed prototypes, we offer full-service solutions for companies looking to outsource their product branding.
If you would like to know more about the services we provide, please get in touch. We will be happy to talk through your needs in more detail.