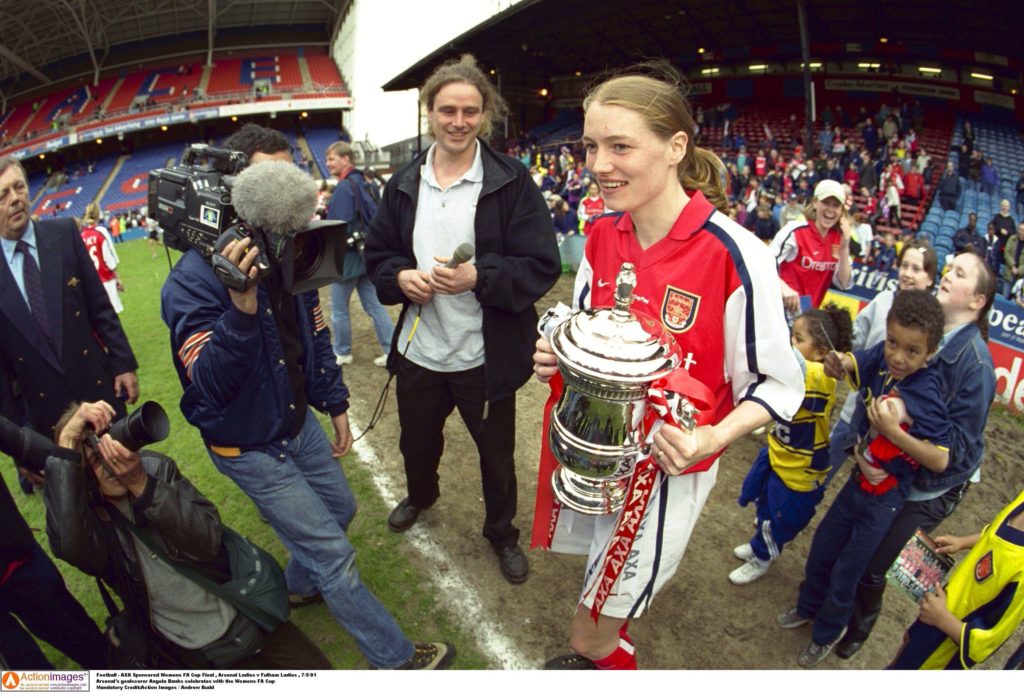 With Women's football reaching fever-pitch at the EURO 2022 tournament, what better time to spotlight our very own Lioness (and Production Manager) ex-Arsenal and England International footballer, Angela Banks.
Angela not only played for Arsenal at club level and represented England on the international stage she was Arsenal Women's first ever European goalscorer (21 years ago, on October 1 2001, away to Swiss champions Bern.
Talking about her European experience with Forbes, Angela said, "There was so much build-up and hype going to a new tournament, with it being abroad. . . new teams, the unknown. It was exciting. It was great we got to play other teams from different countries".
It might be hard to believe when you look at the numbers in attendance at England's recent games, but Arsenal's European game recorded an attendance of just 500 people and Angela doesn't remember any of the players' families travelling to the game. It shows just how far the Women's game has come and how players like Angela paved the way for the game's current talent.
Incredibly, Angela is one of only nine Arsenal players in history to score over 100 goals for the women's team, racking up an incredible 133 goals in 144 appearances. Other achievements include winning the treble in the 2000 / 2001 scoring 42 goals in the process.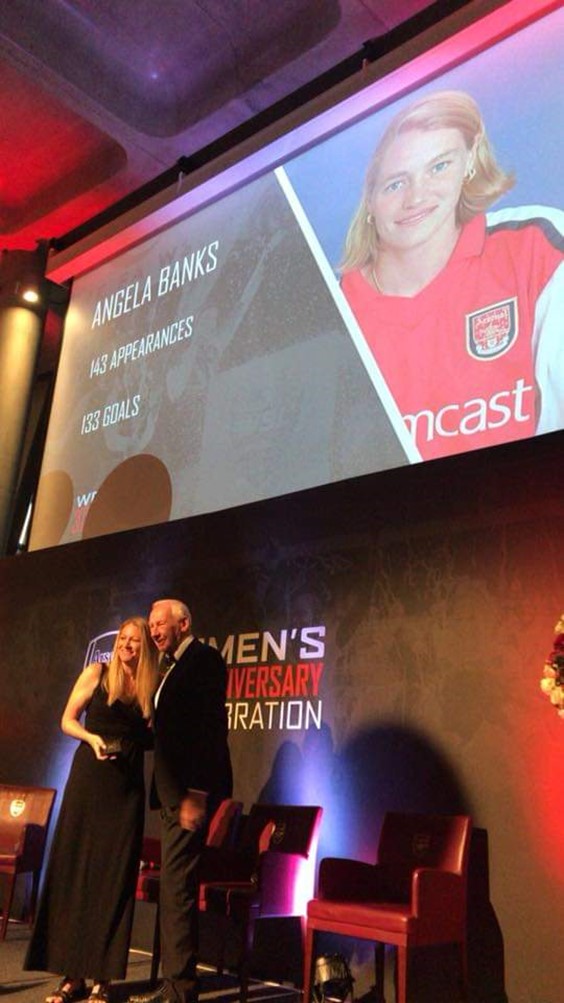 In an interview with Forbes, Angela said, "It was the best team I've played in for sure… I enjoyed playing alongside Jayne Ludlow and Ciara Grant in midfield, they had great energy and leadership. Same with Faye White and Casey Stoney, a big presence at the back for us. Emma Byrne was such a great keeper, the best at that time. Kirsty Pealling and Marieanne Spacey, both had such accurate passing ability, they always picked out my runs. Marieanne was great to play with, such natural ability. I also played in the same team as Alex Scott and Fara Williams, who you would have seen a lot of on the TV recently, both are brilliant presenters and commentators, they weren't bad at football either"
Someone else who was destined for success was England's current leading goal scorer Ellen White, who played for the Arsenal under 9's team whilst Angela was playing for Arsenal's first team. Angie was seen as somewhat of a hero and inspiration to Ellen. Angie comments "As soon as I saw her play, I knew she was an England player in the making. She had an eye for goal and natural finishing ability, even at such a young age you could tell she was going to be a star".
Angela's career took off at an early age. Whilst playing for Brighton and Hove Albion Angela was spotted by Swedish club Surahammer, at just 16 years old Angela moved to Sweden where she would spend the next 6 years. While playing in Sweden, Angela was encouraged by her club to take dual-nationality and play for the Swedish national team. She rejected the opportunity.
It wasn't long before England's elite started to take notice and Arsenal and England both came calling. In May 1999 Angela made her international debut for England against Italy. Two years later scored her second international goal, a game winning twenty-yard chip against Scotland.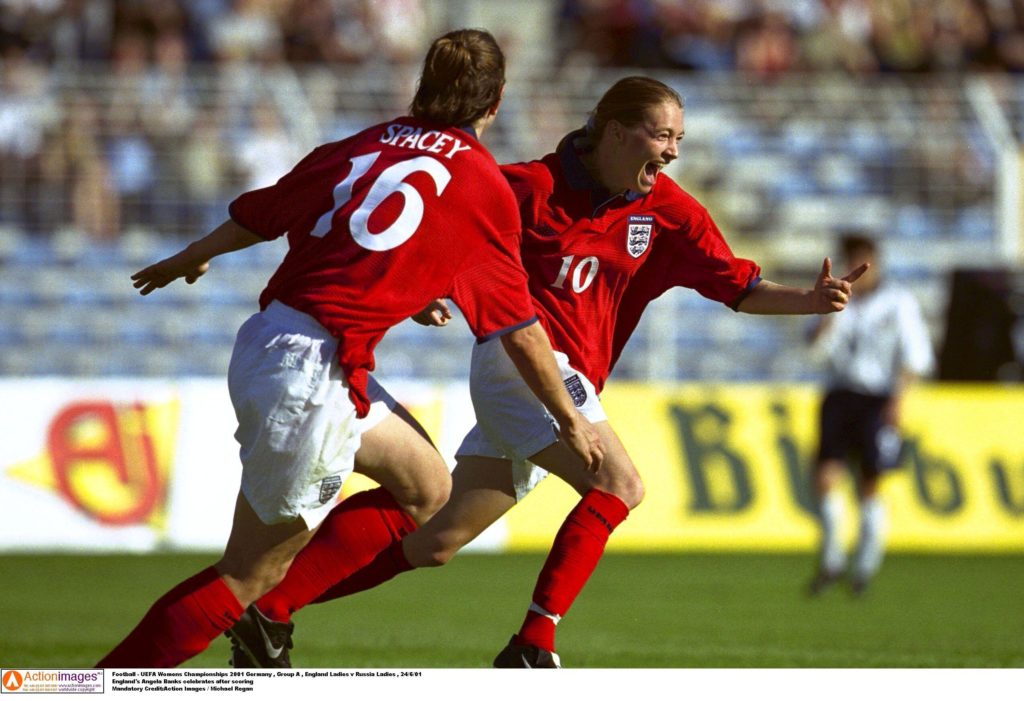 During her time with the London club, Angela was employed here at Premier Impressions as a printer in our factory. Unfortunately, as was the case for many of her semi-professional teammates, being paid a wage to train and play women's football wasn't something that happened commonly at the time.
When Angela was playing for Arsenal, the women's team didn't get paid the sums the current women's footballers enjoy, instead they were sponsored by an Arsenal men's first team player. Angela's sponsor was no other than Dutch legend Dennis Bergkamp.
Nowadays, with corporate giants taking more of an interest in football, and its popularity increasing by the day it won't be long before the big money hits the women's game.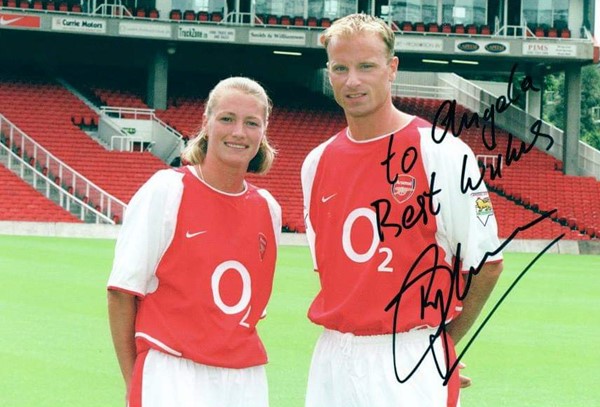 Angela ended her career at Arsenal in 2005, before going on to become a player-coach at Whitehawk FC, just a stones throw from where we are located now in Newhaven. Her only current involvement in the game is coaching her six-year-old twins who are both Arsenal fans along with her 10-year-old son. Due in part to a fear of flying Angela quit international football in July 2022.
Keith Lewis (Operations Manager) commented "Angela was able to balance the desire to build 'traditional' skills in the print industry with her love and passion for the beautiful game – which make her achievements all the more incredible!, she is an inspiration to us all, and her leadership and motivation skills have transferred from the football pitch to Management, definitely one of the best signings we have ever made!"
Angela loves the daily challenge that her role at Premier brings, just as she enjoyed the challenge of becoming one of the leading pioneers of women's football in England. "When I look at the current team, they fill me with so much pride, and a little bit of envy if I'm honest. Women's football has exploded over the past couple of years and will continue to do so. I am proud that I played my part in inspiring some of the girls in the current squad, if they lift that trophy in Wembley all the sacrifices myself and the other women made to fulfil our dream in raising the profile of women's football all would have been worth it!"
With all that being said, it's not hard to see why Angela has such a positive impact on our business.
While playing in Sweden, Banks was encouraged by her club coach to take dual-nationality and play for the Sweden women's national football team. She rejected the opportunity.
In May 1999 Banks made her international debut for England against Italy. Two years later she scored her second international goal, a game-winning twenty yard chip against Scotland. Banks' first goal came in only her second start, a 2–1 friendly win over Finland in September 2000.
Banks also scored against Russia in a 1–1 draw at UEFA Women's Euro 2001. In March 2002 Banks captained England for the first time, scoring in a 3–1 loss to Norway at the Algarve Cup.
Due in part to a fear of flying, Banks quit international football in July 2002.